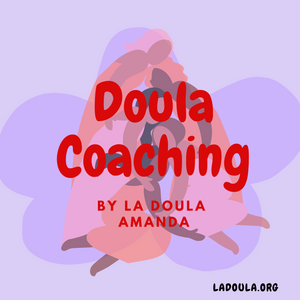 DOULA COACHING PROGRAM
Regular price $80.00 Sale
Are you an aspiring doula? Need someone to talk to about doula life or starting your business? Need some expert chat on Social Media?
I have been a doula for over 5 years. I have been to hospital and birth center births. I have started my website and social media with success. I have had 2 babies unmedicated and 5 miscarriages.
If you follow me at @theladoula, you know how passionate I am about birth!
I can help you with all aspects of your doula journey. From classes to take to what platform to use for your website. We can talk about pre-natals and how to best service your clients or what filter to use on your photos!
DOULA COACHING PACKAGE! 
**A 1 hour block to chat and talk about all things doula and your goals
**An opportunity to shadow digital doula prenatal (The prenatals may be recorded so you can watch back)
**The New Doula Handbook- which offers tons of tips and tricks in a handy Pdf you can save to your phone. There are links to many resources that easily click through!
 Call times are in PST. Please make note when booking.
After you purchase your hour- email me and we will figure out the best time!